Maynooth
1. Black Spruce Art Works 416.452.8223 LauraCulic.com IG:LauraCulic FB:BlackSpruceArt
Contemporary fine art gallery & studio for painter Laura Culic.
2. Madawaska Art Shop 613.338.2555 Madawaska-Art-Shop.com FB:Madawaska-Art-Shop
Gifts, decor, rosewood/pine furniture.
Crate bunk beds, pottery, clothing, & fudge.
3. Maynooth Gas 613.338.3015
On the corner of Highways 62 & 127 for gas, lubricants, live bait, tackle, ice, camp wood, ATM. LCBO bottle return and, yes, we still rent DVDs!
4. Maynooth General Store 613.338.2862 MaynoothGeneralStore@@gmail.com
Groceries, moccasins, gifts, lake clothing, lottery, & toys. Canadiana, Dutch imports, & fresh vegetables. Kawartha Dairy ice cream. Open all year round. Closes early on Sundays.
5. The Arlington 613.338.2080 TheArlington.ca Info@TheArlington.ca FB:TheArlingtonPub IG:The_Arlington TW:TheArlington
Affordable accommodations. Bands every Saturday night. Fun on Fridays. #PurplePalace
6. Old Peterson Road Gallery 613.338.5431 NancyBrookes@yahoo.ca FB:Old-Peterson-Road-Gallery
Maynooth's eclectic art & antique shop.
7. Brush With The North Gallery 613.338.2984 BrushWithTheNorth.com FB:BrushWithTheNorth
Unique gifts, gallery & home decor, handcrafted locally, art supplies, workshops.
8. LCBO #478 613.338.2243 LCBO.com
Liquor, wine, beer, vintages, essentials & a cold beer room. Come see us!
9. Sun Run Cafe & Private Chef Service 613.338.1001 SunRunCafe@gmail.com FB:Sun Run Cafe Private Chef Service
Great breakfast, house made meals, fresh baked goods, freezer meals & catering.
10. Highlands Hot Tubs 613.338.3000 HighlandsHotTubs.ca
Hot tubs, saunas, pools, chemicals & water testing. Water toys & accessories. Outdoor furniture & BBQs.
11. Wildewood Gallery 613.338.3134 FB:Wildewood Gallery
Local art & pottery that will bring you to your senses.
12. Toadestone Craftworks 613.553.0505 FB:Toadestone Craftworks
Come browse our shop for antiques, vintage, rustic & re-purposed items. For creative or technical support, this is the place!
13. Foxfire Gallery, Gifts & Antiques 613.338.3338 FB:Foxfire Gifts Gallery & Antiques
Interesting mix of new, vintage, & antiques. New clothing as well.
14. Memories Tearoom & Bakery 613.412.9700 FB:Memories Tea Room And Bakery
A quaint Victorian cafe serving lunches and goodies.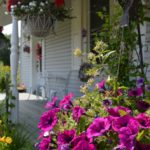 15. Maynooth Farmers' Market ChristineHass44@gmail.com FB:Maynooth Farmers' Market
May to October, Saturdays 8am to 1pm
16. Trail's Edge B & B 613.338.3331 416.949.4550 TrailsEdgeBB.com FB:Trails Edge Bed & Breakfast
Bed & Breakfast next to the Heritage Trail.